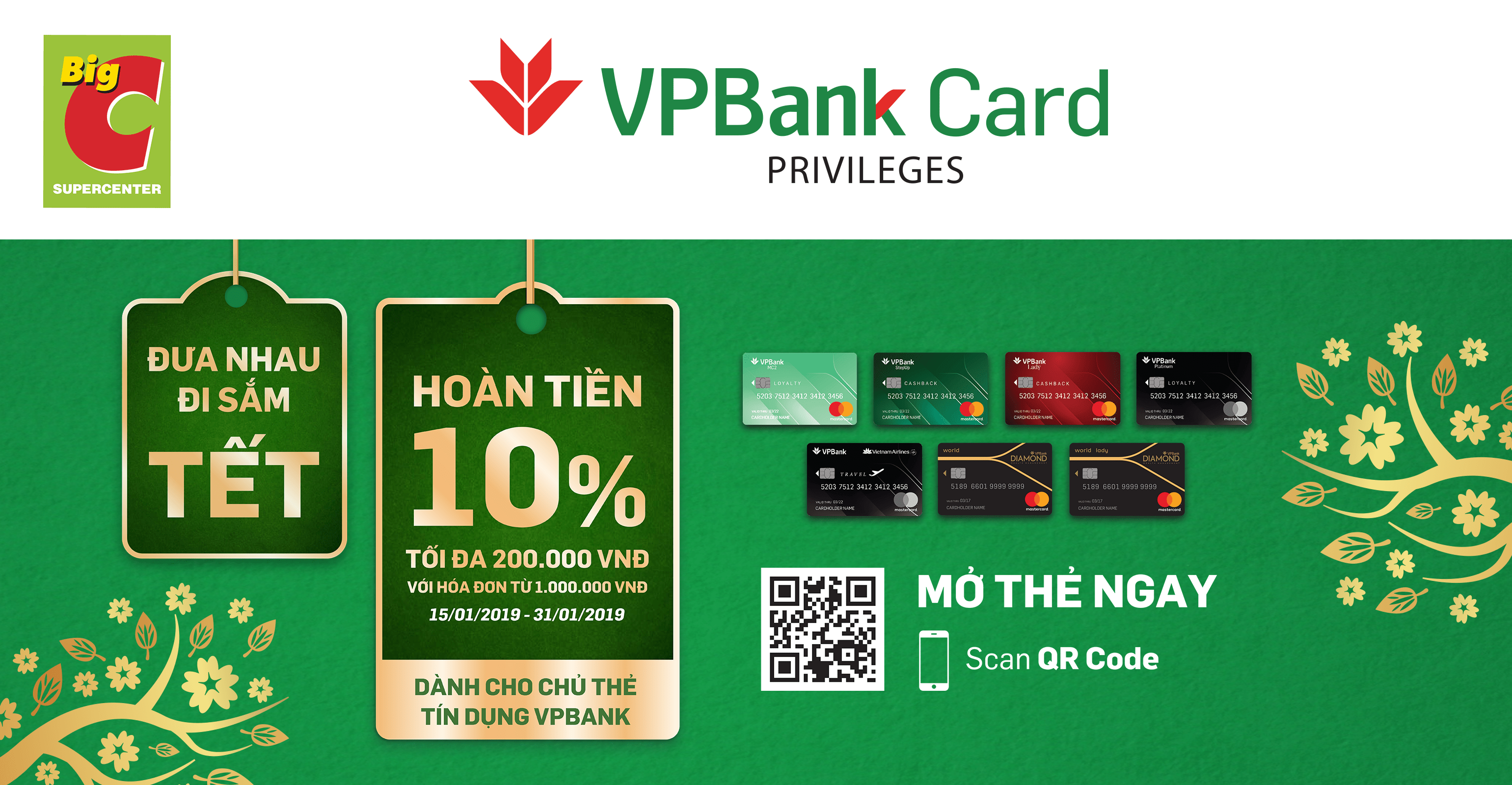 Special offer from VPBank: 10% cash back for Tet shopping
>>> Enjoy the special 10%
cash back
offered by VPBank for your happy Tet shopping at Big C.
Promotion: 10% cashback from VPBank.
Timing: 15/1/2019 – 31/1/2019 or until the budget runs out, depending on the condition that comes first.
Places of application: Big C supermarkets nationwide.
Promotion details: 10% cashback on every completed transaction valued from 1,000,000 VND and above by VPBank credit cards (Mastercard) at Big C. The maximum cashback is up to 200.000 VND/customer.
Eligible type of cards: All VPBank VISA credit cards.
Terms & Conditions:
1. The maximum cashback is 200,000 VND/cardholder during the entire program period.
2. The

cash back

can be rewarded once to each cardholder during the entire program period.
3. Cardholders whose payments by VPBank credit card will be refunded to your account as follows:
Receiving one refund after the end of the promotion.
Transferring

into the credit card account of VPBank credit cardholder.
4. Payment transaction: is the VPBank cardholder's payment of goods or services transacted via VPBank POS at Big C supermarkets nationwide.
5. Customers must pay all the extra amount of money and fee arising from the purchase and sale of goods as well as services provided by partners using VPBank cards.
6. The order of reward consideration and granting is based on the time when your transaction fulfilled all the required conditions.
7. The promotion may end ahead of time as soon as it meets the allowed budget.
8. The cardholder is responsible for storing all the purchase and payment invoices in case of suspicious transactions tracking.
Eligible card types:
ELIGIBLE BIN LIST

8-digit BIN

CLASSIC
(520399)

MC2

MC2 OLD

52039930

MC2 NEW

52039930

MC2 MOBIFONE (NUMBER 1)

52039967

MOBIFONE CLASSIC

MC MOBIFONE CLASSIC

52039999

TITANIUM
(523975)

LADY

LADY

52397568

STEPUP

STEP UP

52397579

MOBIFONE TITANIUM

MC MOBIFONE TITANIUM

52397599

PLATINUM
(524394)

PLATINUM

PLATINUM NEW

52439401

PLATINUM

52439430

VNA PLATINUM

52439466

MC MOBIFONE PLATINUM

52439499

PRIORITY PLATINUM

PRIORITY PLATINUM

52439468

PRIORITY VNA PLATINUM

52439469

DIAMOND WORLD
(518966)

DIAMOND WORLD

51896601

DIAMOND WORLD LADY

51896602
Time of reward giving
VPBank will finalize the cashback list once after the promotion ends.
Method of reward giving
The reward transaction will be completed by VPBank within up to 30 working days following the closing date of the promotion: 31/1/2019.

Cardholder whose payment by VPBank card will be refunded to your credit account.
---
Choose the information you don't want to miss!